The Hyssop plant is a lesser known herb that has a slightly bitter, fresh and minty taste that is best used to supplement salads or with meat. The plant is a semi-evergreen perennial that can grow up to 3 feet tall, depending on the variety. Its flower is a vibrant purple and its leaf a robust green, so it is great as an ornamental plant too.
How To Grow The Hyssop Plant
The hyssop plant likes a very sunny position in well-drained soil. A little bit of shade is okay, but full sunlight is preferred.
Sow seeds in the ground 1/4 inch (6mm) deep in rows spaced a foot (30cm) apart. The soil needs to be warm at time of sowing, so late spring or early autumn is usually best, although it depends on the climate. Ideally the soil will be around 18°C. If required, the hyssop can be started in seed trays and transplanted when its warm enough outside.
As the plants grow, thin to a foot apart. Some people like to grow hyssop as a hedge plant, in which case it's advisable to thin to only 7 inches (18cm) apart.
Hyssop has a pleasant smell and full flower which is guaranteed to attract lots of fauna like bees and butterflies. This is great for your garden, but be careful in positioning it too close to any area where humans frequent such as an outdoor entertainment area. Your guests may not enjoy a constant swarm of bees around them! Hyssop is traditionally grown next to cabbage to draw the pesky cabbage butterflies away.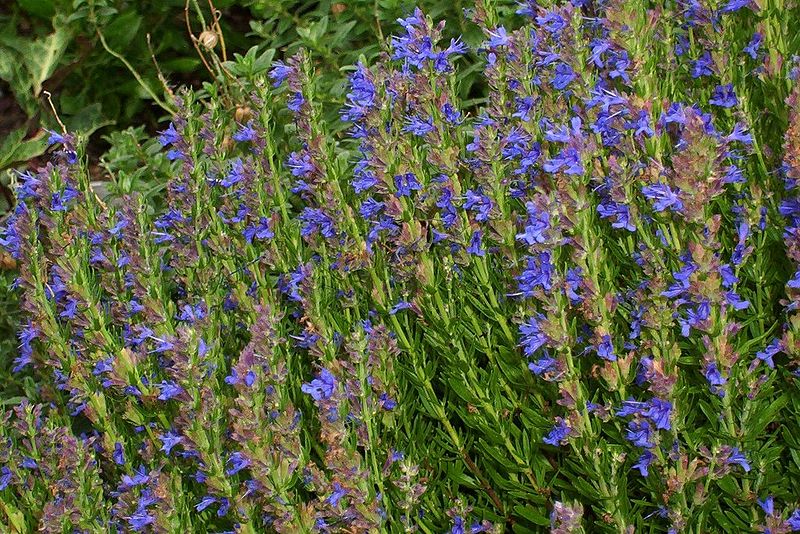 Growing Hyssop In Containers
Hyssop can be grown easily in containers, provided it receives enough sunlight. Pots should be about a foot (30cm) in diameter.
Harvesting Hyssop
Hyssop should be harvested before the flowers open. Bunches can be tied together and hung upside down in a warm, dry place.
Threats to Hyssop
Hyssop is basically a problem free plant.